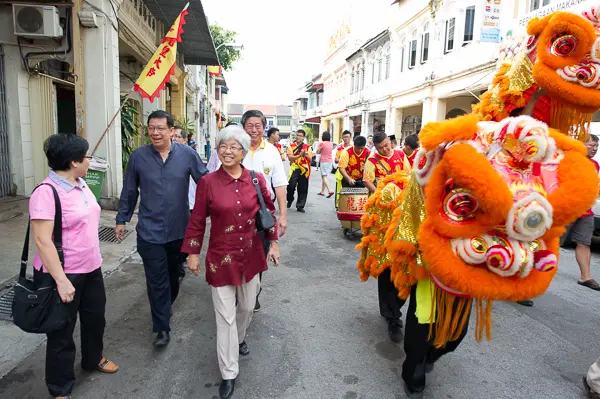 With festival flags flying, lions dancing and drums beating "Worshipping the Sky Gods" arrived on Hong Kong Street in Georgetown on June 15, 2013.  It was quite the celebration. We didn't need a red carpet – we had the people of the neighborhood to welcome us to the street with their smiles and appreciation. We had YB Chong Eng to officiate and other special guests to grace the scene – YB Teh Lai Heng, Dato Lee from the Nine Emperor Gods Temple Association, Joe Sidek from Georgetown Festival, Khoo Salma from Penang Heritage Trust.  We walked about and looked at the photos, visited both Tow Boh Keong and Tiong Sim Thnuah and greeted the neighbours.  It was a celebration of art and heritage and community spirit.  We finished up with Kun Kee coffee and Nonya kueh and a good conversation about the important union of business and the arts and how the two can help us to protect the intangible cultural heritage of this city.
Here are a few photos – from the late night installation to the early morning balloons and what has come since then.  The exhibit has its own energy now.  The idea started as a way to represent the sacred space of Hong Kong Street.  It has been embraced by the community and they have in turn given the photos their own sacred space.  I know there are some out there who are wondering what this is all about.  But questions are good.  Keep wondering!
Thank you to all who made it possible for this exhibit to communicate the pride of place that characterizes Georgetown and Hong Kong St.  Let's have fun with this exhibit!  It's on the walls of Jln Cheong Fatt Tze (formerly Hong Kong St), as part of Georgetown Festival 2013, until mid July.